Submitted by kashima on Wed, 2015-09-30 14:08
Preprocessing means processes applying before displaying waveforms. The preprocessing parameters can be confirmed and changed in the [Preprocessing setting] dialog box that can be called from the menu [Tool] -> [Preprocessing…].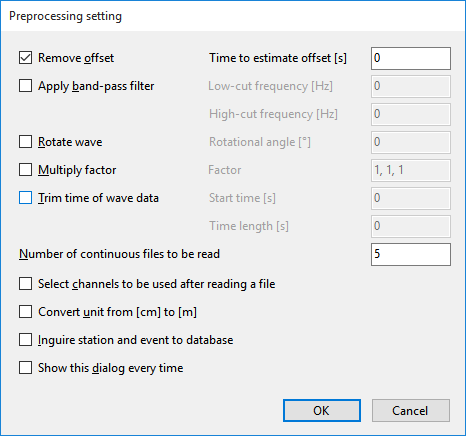 There are the following items;
Remove offset: removes offsets of strong motion data using average values for the time given as [Time to estimate offset], if checked. If zero is given, the averages in the whole time are used as the offsets.
Use band-pass filter: applies the band pass filter with given low-cut and high-cut frequencies to strong motion data if checked.
Rotate wave: rotates the strong motion data in the horizontal plane if checked. Channels must be stored in order of Y (North-South), X (East-West) and Z (Up-Down). [Rotational angle] gives the rotational angle in degrees. If [Rotational angle] is zero and the data file is a BRI AC file, the data is converted to the N000°E and N090°E directions.
Multiply factor: multiplies strong motion data by given factors. Plural factors separated by commas can be given. Those factors are applied sequentially and cyclically.
Trim time of wave data: trims the strong motion data by specified [Start time] and [Time length] if checked.
Number of continuous files to be read: specifies a number of files to be read in case of data files that can have continuous files, such as JMA-95 intensity meter files, Tokyo Sokushin T3W files.
Select channels to be used after reading a file: shows a dialog box to pick channels to be used after reading a data file, if checked. The dialog box is like below. The left list box has a list of channels contained in the data file. You can move channels that you want to use by double-clicking on the label or the [->] button. Only the channels contained in the list box on the right side are used inViewWave. This can be utilized to change the channel order from the original one.
Convert unit from [cm] to [m]: converts unit of length from [cm] to [m] assuming that the original unit is [cm], if checked.ViewWave will multiply acceleration data by 0.01 after reading, and replace [cm] to [m] in unit expressions.
Inquire station and event to database: inquires information on station and event after reading a data file if checked.
Show this dialog every time: shows this dialog every time after reading a data file if checked.